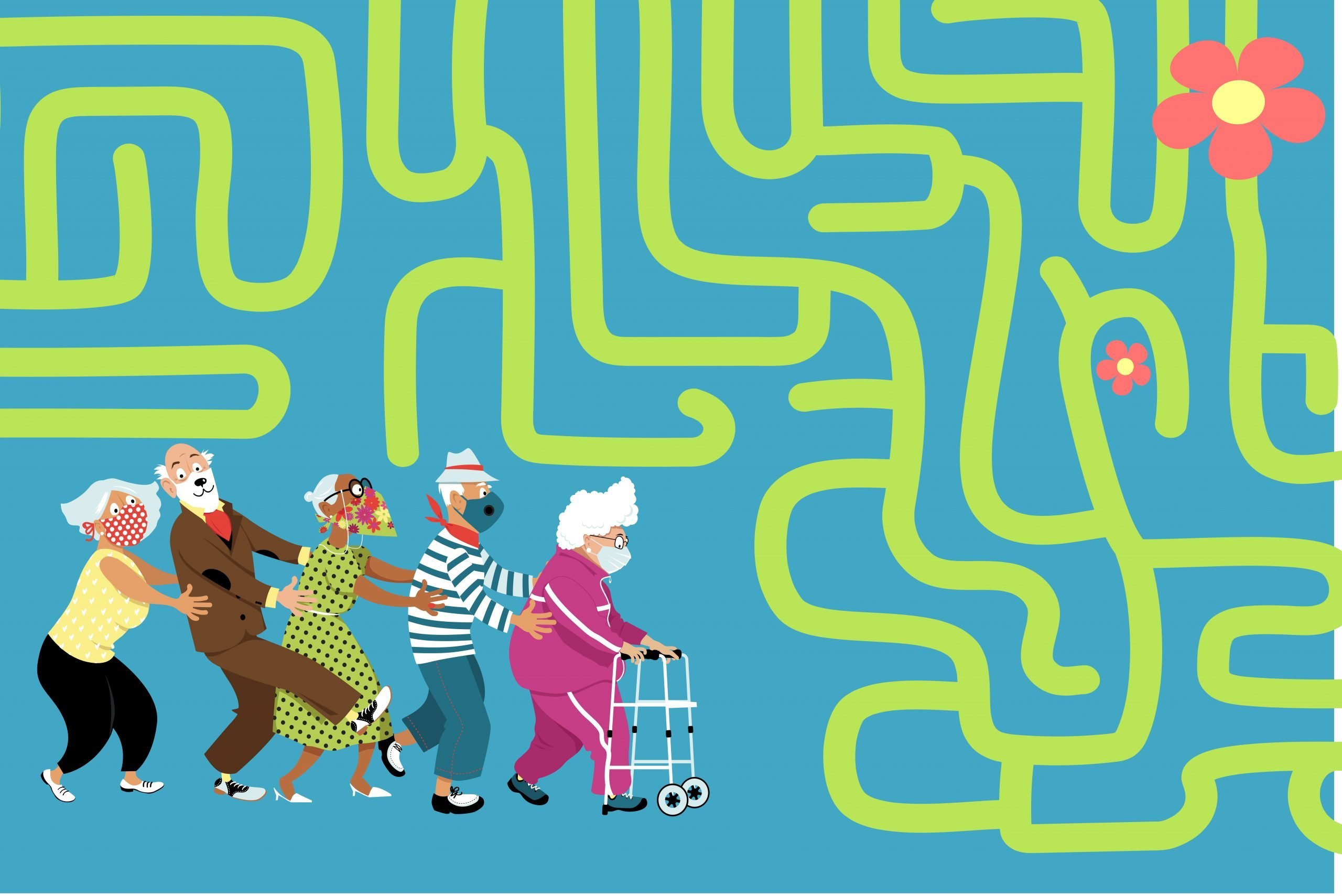 Navigating the Aged Care Maze
Navigating the Aged Care Maze
Our Top 5 tips!
Trying to find care and support for yourself or a loved one can be a little baffling and can often need to be undertaken at a time of crisis.
Finding the right type of services amongst the many options available can be tricky if you don't know where to start or what the options are.  And let's face it, with human nature being as it is, we don't usually think about aged care services until we absolutely have to!  So here are our top 5 tips if you find yourself needing to make your way through the many paths and networks of the aged care system!
Tip 1: Research what kind of care is available
There are three main levels of care, with a range of options in each level – short-term care, home care, and residential care.
Short-term care can come in the form of a short respite stay in an aged care home, transitional help after hospital stays, or short-term restorative help.
Home care can include domestic help, assistive or mobility aids, food, personal care, nursing or specialised care, and social supports including transport.
Residential care, 24 hour care usually consisting of accommodation, care, meals, laundry services and more.
Tip 2: Get in early and organise an assessment
The first place to start is calling My Aged Care on 1800 200 422, or visit their website www.myagedcare.gov.au. They will assist you with knowing the type and level of care you require, and help connect you with your next step. If you are eligible, you will be contacted within 3 weeks for a referral for a free of charge face-to-face assessment.
Depending on the level of support you need, you will be assessed by the Regional Assessment Services (RAS) or Aged Care Assessment Team (ACAT). RAS assess those in need of low-level support to stay independent at home, while ACAT assess those with more regular or complex support needs.
Tip 3: Utilise Representatives and Advocates if needed
Representatives are individuals you can nominate to speak on your behalf. Nominating a representative gives them the power to communicate with My Aged Care, assessors and service providers, and make decisions for you. In cases where an individual cannot consent for a person to speak for them or make their own decisions, the nominated person must become an Authorised Representative.
Advocates are people that can offer impartial advice and helps you understand your rights within the aged care system. They can help with making decisions about care, resolving concerns with your provider, or helping you to advocate for yourself. These people can be found through the Older Persons Advocacy Network (OPAN) and National Disability Advocacy Program (NDAP)
Tip 4: Understand the costs involved
There are different costs involved with different services and costs can vary from person to person dependent on your individual circumstances.  It all depends on what type of care you are eligible for, the provider you choose and your financial situation.
There are a number of government funded services, but individuals are expected to contribute to the cost of their care if they can afford to.
If eligible for home care you may have to pay a basic daily fee and/or an income-tested care fee, requiring an income assessment.
Residential care may incur a basic daily fee, a means-tested care fee and accommodation costs.
If you can't afford to pay your aged care costs, financial hardship assistance is available to help you get the care you need.
Tip 5: Start early
The process to receive care or extra support can be complex or take a long time, so it's best to start looking at your options as soon as you start to find day-to-day tasks becoming a bit more difficult or if you start to experience a decline in your health or mobility.